genus: CYPHONISTES
species: gazanus Prell, 1912
leg. Petr Malec(4/2000); det. M.Zęka
origin: Malawi, Chintheche

species: vallatus (Wiedemann, 1823)
subspecies: septentrionalis Prell, 1912
origin: Ethiopia, Sof`Omar (4/2003) leg. Petr Malec; det. Y.Ponchel
origin2: Ethiopia, Finchawa (5/2008) leg. Petr Malec; det. Y.Ponchel

wild imago size: around 30 mm
sexual dimorphism: males with horns on clypeus
note: I used to breed species C.gazanus fo about 5 generations. However it is very difficult beetle to keep as pupa hibernate for about 5-6 months. During this phase it is necessary at the beginning to dry up cocoons continuously and then keep them rest with just gentle watering.



Cyphonistes gazanus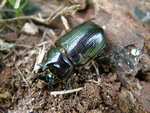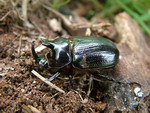 Cyphonistes vallatus septentrionalis